Free CV Maker
Use our free CV template
Create a professional looking CV quickly and with ease
The CV Builder keeps your CV looking consistent and clear!
Already written a CV? Upload your current one and fill in the empty fields!
START NOW
Does your CV look outdated, but have no time to improve it? Or maybe you are looking to create a new one altogether? With StudentJob you can use our free CV maker and choose an array of professional looking templates. All you have to do is upload your old CV or fill in the information and download it for free!
A professional CV is important
Searching for a job? Attract the most attention from recruiters by having a high-quality CV. Many recruiters work with StudentJob, so we know exactly what they are looking for when it comes to applications. This is why we have created the CV Maker; a free service to make your own CV step-by-step.
Build your professional CV for free
You can create your free professional CV with our free CV Builder! Either upload an existing CV and fill in the empty boxes. You can also change the order, add more text blocks and choose the design. Or you can create one from scratch using our easy-to-use online CV maker. All you have to do is select your favourite layout and fill in the empty fields. Afterwards you can download your brand new CV as a PDF file.
Make sure your CV is complete
Our free CV Builder has been created using years of experience from our recruiters, so we know exactly what it takes to make one outstanding! If you want to make sure recruiters will consider your current CV then simply upload it in the CV Builder. The programme will read through your information and organise it logically, allowing you to spot missing sections to fill in. Then, you have effortlessly created your free CV!
START NOW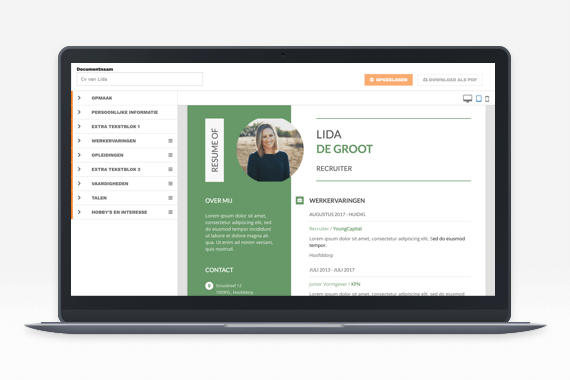 Do's and don'ts when making a CV
Ever wanted to know what CVs end up being placed on the good pile and which ones end up in the bin? Check out our application tips and learn how to make your CV stand out from the crowd!
APPLICATION TIPS