Yep, that's right - you can use social media to find your next job. Here are some quick tips to help find secure your next position whilst your scrolling through your meme-filled news feed.
Facebook
Some people say Facebook is slowly becoming a dying social network. However, aside from the fake news, spontaneous wedding announcements and dog pictures, Facebook can also be a good portal for jobs!
This can be done in two ways.
Find company pages - they normally post their vacancies here and you can apply directly.
Use Facebook Jobs! Search through a concise list and filter using location. Making it far more easy and effective.
Naturally, if you apply using Facebook, then the employer will be able to view your profile. Make sure there is nothing on there that screams out you are actually in fact, a raging alcoholic. To make sure your profile is suitable for Facebook, check out these quick tips too.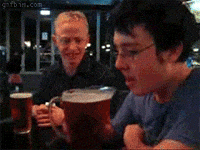 FYI - this is what I mean by raging alcoholic.
Instagram
Shocking right? As well as posting pictures of your mediocre-looking-lunch you can also use Instagram to find your next job too!
This one is especially great for all the creatives out there. So if you are looking to break out into the fashion, graphics or even the tattoo industry, you should really consider Instagram.
How you say?
Create a new profile which highlights your work-related achievements - spread your awareness!
Use hashtags to your advantage. Anything like #jobsearch #applynow #hiring will all bring up posts related to vacancies. You are allowed to use up to 30 hashtags on each post!
Also the power of the much loved DM can really help with this too. If you have spotted a company page on Instagram, don't be afraid to message them! Networking through social media shows initiative and interest, something employers love.
LinkedIn
I wasn't going to write an article about social media and job hunting without mentioning LinkedIn!
Evidently, LinkedIn is the ultimate kingpin in professional networking. Each year the number of recruiters using this social media platform to find candidates is increasing. Massively.
So how will use it to find your next job?
Connect, connect and connect! Whatever industry you are interested in, find relevant contacts to connect and engage with. This will help build your network and spot early opportunities.
Big yourself up! I know we all hate talking about ourselves (well, most of us) but it is important to list all of your achievements, skills and experience. With so many people now on LinkedIn, it is crucial to come up with new and exciting ways to make yourself stand out.
Another quick tip, when using LinkedIn, take some time when choosing your profile picture. Something professional and simple will do the trick. Get your mates together and organise a cheap, no-frills photoshoot.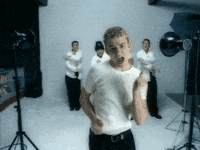 You work it, gurl.
Twitter
For those who still use Twitter, this can also be an option too.
Similar to Instagram, use hashtags to your advantage! But there are some other ways too.
Twitter does not have the most professional looking interface, but you can spice it up a little. Share informative content on your page, this will encourage positive engagement and will point you in the right direction.
Follow the right people too! Especially recruiters and companies. Social media is excellent for opening doors to people around the country and the world.
Another quick tip - make sure your username is appropriate. You'd be surprised how much this matters.
Social media is a fantastic tool, especially when it is put to good use. So if you are looking for a job, whether it is part-time, weekend or even an internship, consider using one of the above platforms to engage with potential employers!
About the author…
This article was written by Megan Bryant, an Online Marketer for StudentJob UK. When she's not drinking a million coffees and working, her time is spent studying towards her bachelor's degree in Business Management at Coventry University.
Share this article
Popular posts
Register now with StudentJob
Do you want to be kept up to date on the latest jobs for students? Register for free on StudentJob.
Register